Kenbak #1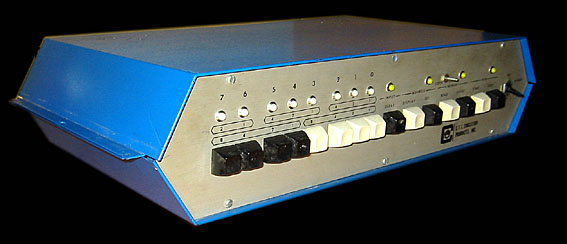 This Kenbak was the first that we could aquire. It has the CTI logo on the front. It has a modified power supply. The fan is on the outside.
What's with the CTI Label?
Why is on the Computer Museum's Kenbak-1 the C.T.I. Education Products, INC. Label and not "Kenbak-1"? Well C.T.I. was the first sales agent for the Kenbak-1. Blankenbaker sent all the pieces and parts to CTI. CTI assembled the computers and put their logo on the front. They renamed the machine H-5050. As far as I know CTI bought 8 of the 40 Kenbak-1s. The Computer Museum's machine is one of those 8.
Pictures.
Please click on the pictures to enlarge.
| | |
| --- | --- |
| | |
| Front Panel. Please note the CTI Logo. You can read the explanation for that in the text above. | |
| The only thing not original on our Kenbak is the power switch. | |
| A well designed computer without Microprocessor | |
| The switches-panel. One switch is kind of loose, but we hope to restore the computer completely. | |
| A closer look at the Mainboard. | |
| A closer look at the Mainboard. | |
| The power supply | |